Shipcontroller Doble Clic 756 TG
The new Shipcontroller 756 TG makes remote control doubly easy thanks to the useful "Doble Clic" function.
With all the regular features to be found in our previous Shipcontroller systems, and new unique functionalities:
-A brand new menu system, handy and intutitive. Modify the level of thrust applied to your engines or thrusters just by double clicking the corresponding control button or lever.
-Thrust settings that can be applied directly from the remote.
-The Precise Pulse Control system (PPC) for remotes with a display control panel.
-Our exclusive Windlass Memory function.
Features
Doble Clic System
PPC: Precise Pulse Control
Autopilot integration
Information display
Navigation data
Encrypted comms
The "Doble Clic" system allows two levels of thrust for your engines and thrusters, just by double clicking on the corresponding control button or lever.
The PPC feature allows you to activate your engines at adjustable time intervals, which results in "thrust pulses" that keep the average thrust within the required low speed limits that ensure comfortable and secure docking maneuvers.
This function can also be applied to ON/OFF control thrusters for improved thrust control, and it is only available for remotes with a screen.
With a Shipcontroller 750, you will be able to monitor and control the ship's autopilot from the remote.
Change the autopilot's mode and alter the set course just by pressing a button.
This feature is only available for compatible autopilots.
The most advanced Shipcontroller remote units feature a state-of-the-art e-ink hybrid display that makes information clear and easily readable both in low-light conditions and in full direct sunlight. The display control panel shows a set of information screens that will allow you to read navigation data and control several boat systems from the remote unit.
Docking screen, with navigation data.
Autopilot screen: Set course, mode, etc.
Depth graph and alerts.
Self status screen: Remote battery, comm status, etc.
And more...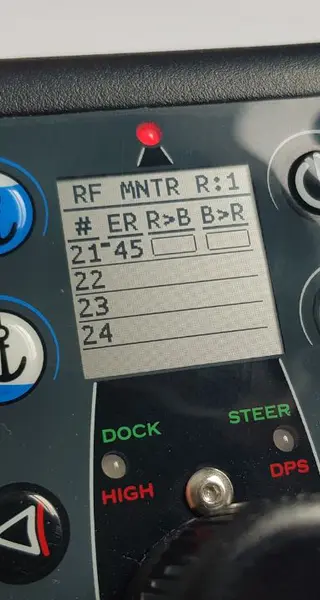 Featuring a 128-bit encrypted bidirectional radio signal, the Shipcontroller system is virtually immune to interference and tampering, making it a reliable and robust wireless solution for motor boats. Our custom communication protocol allows the remote not only to send commands to the boat systems, but also to receive status information from the ship and from the system itself, making it capable of detecting and alerting the pilot of any communication problems.