Shipcontroller 750 features a three-axis joystck, allowing you to maneuver your boat with ease. Just by pushing the joystick, the system will set direction and thrust to the engines for the boat to respond smoothly and with precision.
Featuring a display in the remote control unit, it allows the user to read the most relevant navigation data in real time, while controlling the main engines, side thrusters, the anchor windlass, and even switching on and off auxiliary controls, such as the horn and navigation lights.
Features
Three-axis joystick
Information display
Navigation data
Autopilot integration
Two-windlass control
Robust handy design
Encrypted comms
Shipcontroller 3-axis joystick remote units allow you to perform complex maneuvers in an easy way.
The most advanced Shipcontroller remote units feature a state-of-the-art e-ink hybrid display that makes information clear and easily readable both in low-light conditions and in full direct sunlight. The display control panel shows a set of information screens that will allow you to read navigation data and control several boat systems from the remote unit.
Docking screen, with navigation data.
Autopilot screen: Set course, mode, etc.
Depth graph and alerts.
Self status screen: Remote battery, comm status, etc.
And more...
With a Shipcontroller 750, you will be able to monitor and control the ship's autopilot from the remote.
Change the autopilot's mode and alter the set course just by pressing a button.
This feature is only available for compatible autopilots.
The remote control unit allows control of up to two anchor windlasses.
Remotes with a screen include the chain counter and anchoring ratio calculator functions.
The information screen will pop up automatically when activating any of the windlass controls, displaying information about depth, chain count, and their ratio.
The Windlass Memory remembers the latest windlass used so that when you start the control unit again that windlass is activated.
The Shipcontroller series of remote control units have been designed with durabilty and usability in mind. With an IP-65 rating, they are protected from water and dust. Their membrane keybord, joystick and levers are robust, and easy to handle without even looking at them. You will be free to focus on the maneuver, not on the remote.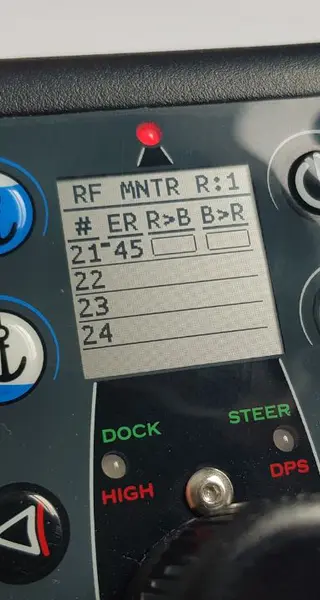 Featuring a 128-bit encrypted bidirectional radio signal, the Shipcontroller system is virtually immune to interference and tampering, making it a reliable and robust wireless solution for motor boats. Our custom communication protocol allows the remote not only to send commands to the boat systems, but also to receive status information from the ship and from the system itself, making it capable of detecting and alerting the pilot of any communication problems.
Anchor windlass
Three-axis joystick
Bow and stern thrusters
Vibration alarms
IP65-rated enclosure
Bidirectional radio system with coverage indication
Navigation data and menus display
Connection mode indicators
Menu, horn and lights buttons
Qi wireless charging system or micro-USB connector
Product specs
| | |
| --- | --- |
| Bidirectional encrypted radio | 128-bit encryption. |
| Main engine controls | Single / Multi speed ahead + astern. |
| Side thruster controls | Bow thruster + optional stern thruster. |
| Navigation data in the remote | Heading, speed, depth. |
| Autopilot integration | View and set course, change mode. |
| Anchor windlass controls | View chain counter, depth, ratio. Up + down controls. |
| Transceivers | 1 |
Optional features
Multi speed
Stern thruster
The Shipcontroller 750 series features a multi-speed engine setup. During system installation, an additional speed can be adjusted to any throttle value above the first speed (which is usually idle). This unique multi-speed setup will allow you to control the engines in both speed configurations from the remote, giving you total control in difficult situations, such as in case of precision docking maneuvers, or in bad weather.
For ships with a stern thruster, optional stern thruster controls can be installed in the system. Together with the bow and stern thruster controls in the remote unit, the main engines interface will give you complete control over your boat, allowing you to move it ahead, astern, sideways, rotate it, and perform all the necessary maneuvers with precision.
Contact us to get a custom quote on the installation of Shipcontoller 750j on your boat.